Horizontal universal balancing machines for rotors from a few grams up to 5 kg.
The smallest Pasio series is a completely new design. The revolutionary design concept contributes to efficient workflows of the table balancing machines and offers a host of advantages to the users: It provides easy access to the workspace, the measuring device, and all other important control elements. Its optimized Human-Machine-Interface ensures error-free operation and fast set-up while taking up a minimum amount of space.
The compact Pasios feature an excellent measurement accuracy, which ultimately saves you time and money, since a single measurement run and correction step is enough in most cases to ensure that the rotor is within the tolerance.
Sustainable and modern - The new Pasio table balancing machines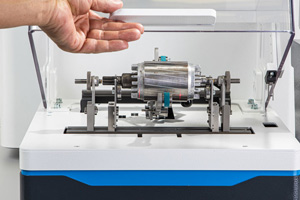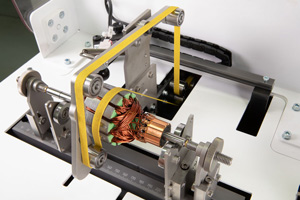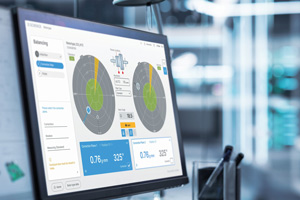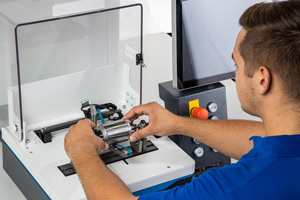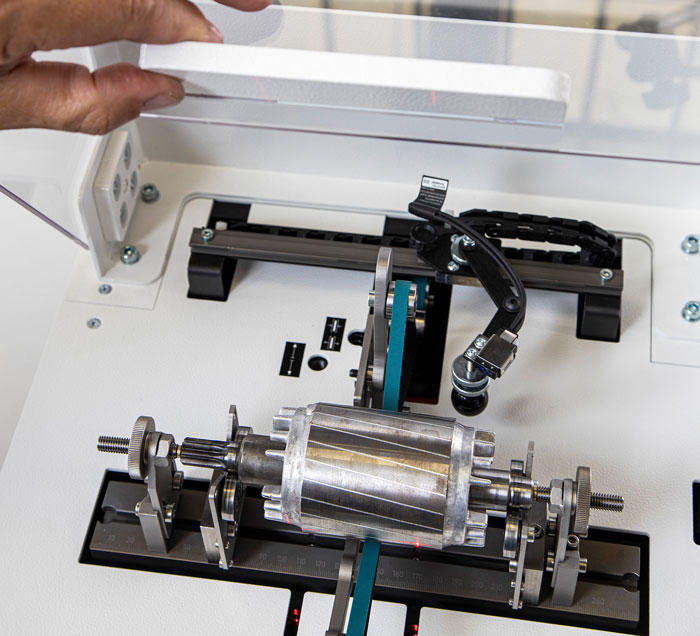 The Pasio 5 series – The ideal balancing machine for small and miniature rotors
The Pasio 5 series is always the right solution when balancing small and very small rotors. The three variants of the Pasio series have been technically optimised for your application area: different drive concepts and rotor mountings are used, depending on the model. In the Pasio 005, the travel measurement procedure is used, due to the greater accuracy. The two larger versions make use of the force measurement procedure.
Both measurement procedures are supported perfectly by our measuring units, so that they always arrive at the optimum balancing result in these weight classes.
Precise, convincing technology
Compact table balancing machine
Easy commissioning
Servomotor with digital speed selection and monitoring
Self-diagnosis for quick fault detection and rectification
Quick and error-free machine setup with the integrated linear laser
Variable drive technology for different weight ranges
Permanent calibration of Pasio 5 and Pasio 05 for easy and quick balancing
Maximum precision thanks to displacement measurement in the Pasio 005
Comfortable protection cap as per DIN ISO 21940-23, Class C
Large selection of options for special requirement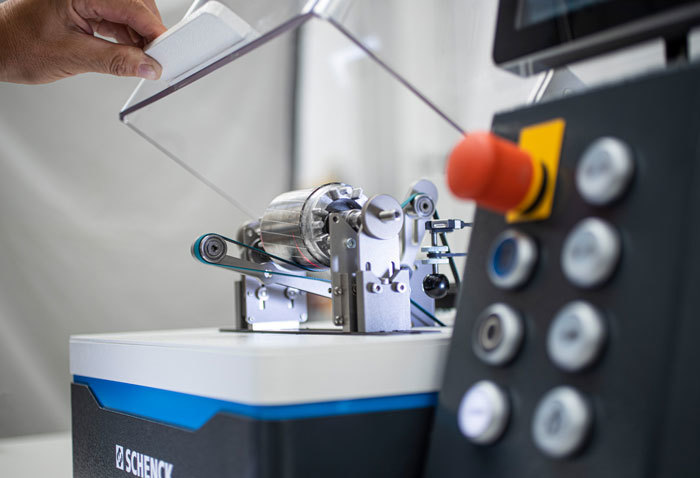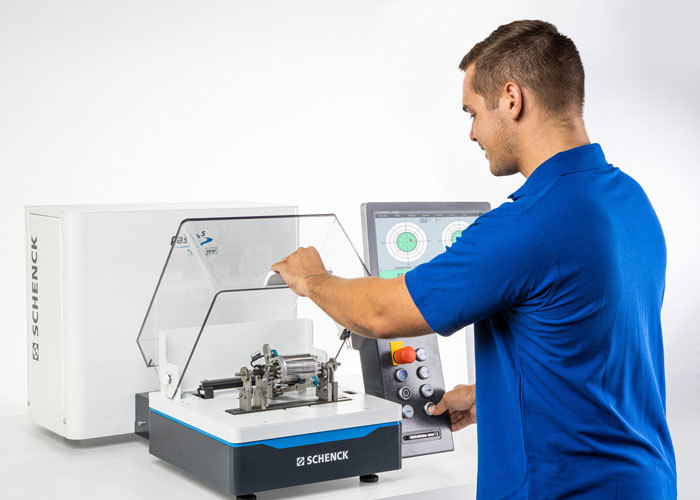 Space saving, accurate and easy to operate.
These are just three of the many advantages which make the Pasio 5 series the perfect tool for efficiency and process reliability in your business. You will also be convinced by the robust design, the reliable Schenck drive technology and the overall construction that meets the very latest requirements when it comes to technology and ergonomy. With the Pasio 5 series, you can balance a wide range of rotors professionally and accurately.
Set up and start work immediatly.
Do you have a power connection and a table? Then you have everything you need. The Pasio 5 series can be brought into operation using the "plug & play" process. We have designed the machine as a compact monoblock construction so that it requires less place. It is, however, still fully accessible and completely in order – a balancing machine which turns in a great performance in the smallest space possible.
| | | | |
| --- | --- | --- | --- |
| | Pasio 5sc | Pasio 05sc | Pasio 005sc |
Rotor dimensions
Maximum rotor weight
5 kg
0.5 kg
50 g
Maximum rotor diameter:
150 mm
60 mm
30 mm
Journal distance
240 mm
65 mm
45 mm
Journal diameter
5-22 mm
1-10 mm
1-6 mm
Machine data
Overall weight
135 kg
Power supply
230V AC, 50Hz
Belt drive, tangential, from below, with flat belt¹
Belt drive, tangential, from above, with round cord belt
Drive power
100 W
Automatic indexing included
Minimum achievable residual unbalance MARU²
0.15 gmm/kg
0.02 gmm/kg
0.01 gmm/kg
2-color paint finish
RAL 9003 (signal white)
RAL 7016 (anthracite gray)
Options
Test rotor with test weights
500 g
60 g
500 g
Extension kit for small rotors
Protective cover as per DIN ISO 21940-23
(protection from flying parts)
Belt drive, tangential, from below, with round cord belt²
2-22 mm
Graduation scanning as reference and angle position sensor
1) Can be converted to overslung belt drive
2) As part of the extension set for small rotors, together with prism inserts for bearing journals 2 – 22 mm, 0.08 – 0.9 inch and software rotor-specific calibration.